Definition of Random Blood Sugar Test
RBS is the measurement of blood sugar ( specifically glucose) at unscheduled time of the day. This is in contrast with fasting or 2-hour after meal testing which are done at specific time or scenario.
Utility of Random Blood Sugar Test
This test is utilized in variety of situation both within the hospital and out-of-hospital situations. The primary indication is to determine blood sugar levels at any given point. This would typically be in -:-
Patients suspected to have high blood sugar levels (Hyperglycemia) for example in known or suspected diabetics
Suspected low blood sugar level. This could be in an individual taking anti-diabetic medications or clinically suspected hypoglycemia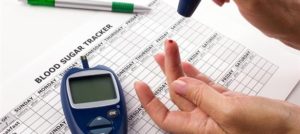 How random blood Sugar is performed
Sample:
Whole Blood – Finger prick, venipuncture
Equipment:
Sanitize finger with alcohol soaked swab and air dry
insert test strip into glucometer and wait for flashing blood drop icon
Prick finger with lancing device
Touch tip of test strip downwards on the drop of blood on the finger.
Read the results displayed on the glucometer screen
Reference Range:
The reference range for random blood sugar is 3.9 – 7.8 mmol/l. A reading below 3.9mmol/l is considered hypoglycemia(low blood sugar), and above 7.8mmol/l is hyperglycemia( or high blood sugar)
Note: One episode of hyperglycemia does not equal diabetes! Additional testing is required to make that diagnosis. Refer to this article, for more comprehensive discussion on laboratory diagnosis of diabetes .
Home Monitoring for diabetics
People living with diabetes are encouraged to monitor their blood sugar levels at home. Although routinely fasting and 2-hour after meal is sufficient, random blood sugar may be dome if features of hypoglycemia e.g. extreme weakness, sweating, reduced concentration are present. Having a glucometer at home is an affordable and convenient way to monitor your blood sugar levels.
Check out our OnCall Plus Glucometer here.
Bonus: We have a free 30-day blood sugar monitoring log you can download and print
Hope this article helps you understand the basics of lipid profile test. Incase of any questions don't hesitate to contact us or comment below.
If you found this helpful, help us reach out to more people by liking and sharing with friends and family. Consider subscribing to our blog so we alert you when we publish new articles.
Till next time, happy and healthy living!
Team labtestzote.
Related Tests
Plasma glucose test
Normal
Prediabetes
Diabetes
Random
Below 11.1 mmol/l
Below 200 mg/dl
N/A
11.1 mmol/l or more
200 mg/dl or more
Fasting
Below 5.5 mmol/l
Below 100 mg/dl
5.5 to 6.9 mmol/l
100 to 125 mg/dl
7.0 mmol/l or more
126 mg/dl or more
2 hour OGTT
Below 7.8 mmol/l
Below 140 mg/dl
7.8 to 11.0 mmol/l
140 to 199 mg/dl
11.1 mmol/l or more
200 mg/dl or more
Source: https://www.diabetes.co.uk/diabetes_care/blood-sugar-level-ranges.html
OGTT – Oral glucose tolerance test.
Related Tests