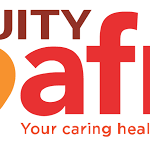 Website Equity Afia -Kiserian Branch
About Equity Afia
Equity Afia is a sustainable, integrated health model that is using franchising principles to train and monitor a network of Medical-Entrepreneurs to provide standardized, quality and affordable healthcare services throughout Kenya.
Equity Afia plans to provide comprehensive outpatient services through an estimated 300 outpatient health facilities over the next few years. Our main goal is to ensure sustained improvement of the health and well-being of Kenyans by increasing access to and utilization of quality, affordable and standardized healthcare
Roles and Responsibilities
Screen all blood for viral markers and provide accurate results to the Doctor
Monitors reagents to ensure the section has enough supplies and utilization is within the budgetary allocation
Perform quality controls to monitor the bias and performance of the Department
Reports faulty equipment to the maintenance department for repairs
Monitor performance in the unit and communicate challenges in good time to ensure high-quality results are achieved at all times
Assists in training Phlebotomist and students on attachment
Assists in bleeding patients and donors when required
Liaise with the Laboratory Manager on new laboratory procedures to ensure that the laboratory is abreast with the fast-developing technology
Market services offered in the department
Qualifications/Requirements
Diploma or Degree in Laboratory Technology
Registration by the Kenya Medical Laboratory Technicians and Technologist Board (KMLTTB)
Three years of work experience
Good communication skills
How to apply
Please visit Equity Afia Website for details.
Check out similar jobs below