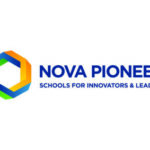 About Nova Pioneer
Nova Pioneer Education Group is a Pan-African independent school network offering preschool through secondary education for students from ages 3 through 19.
We prepare the next generation of leaders and innovators through world-class teaching methods with an emphasis on 21st century skills.
We established Nova Pioneer because we believe education should prepare young people to create their future, not just work in it.
Nova Pioneer is a launchpad where ambitious young Africans can begin to shape a better future for the continent and the world.
We began by asking ourselves the question, "What capabilities will young people need to succeed in and shape the future that they will encounter, and what approaches to education will best develop those capabilities?" All of our founders have extensive backgrounds in education at top institutions across the globe, having studied at universities such as Harvard and Stanford and led education programs for McKinsey and Co., the African Leadership Academy, and top school networks in the US (Excel Academies).
Yet at Nova Pioneer we believe that you never stop learning.So we visited and studied leading schools spanning from Singapore to Peru, and the United States to the United Kingdom.
We connected with leaders of the cutting-edge education research, and leading thinkers on 21st Century Learning such as Sir Ken Robinson and teachers and atelieristas from Reggio Emilia, the leading global early education model, to name a few.
We launched our first school in South Africa in 2014, with the aim of incorporating the best education models in the world, while keeping it as affordable as possible.
We've since expanded within South Africa, and to Kenya as well – with our first Kenyan school launching in 2015.
In all of our schools, we bring in and train top educators to deliver educational excellence in an environment that nurtures our students to uncover their potential and blaze trails in the world beyond our school walls.
About the job
Nova Pioneer is looking for a superstar Laboratory Technician for our Eldoret Girls High School.This is an exciting opportunity to be a part of an innovative network of schools that is developing generations of innovators and leaders who will shape the African Century.
About The Role
Key responsibilities for the role include:Liaising with science teaching staff on their needs for practical work and maintain an efficient system for the use and allocation of materials and equipment, setting a priority system where necessary.
Advising science teaching staff on technical components of the curriculum.
Assisting science teaching staff with demonstrations.
Assisting science teaching staff in instructing students on the use/care of equipment.
Advising and assist science teaching staff in safety matters relating to the science laboratory.
Demonstrating laboratory techniques to science teaching staff/students.
Setting out equipment and materials for the classroom/department.
Using clear classroom demonstrations.
Maintaining a safe chemical storage/handling/disposal system in accordance with current regulations.
Assisting with the security of the science laboratory and equipment.
Maintaining an inventory of equipment and annual stocktaking.
Keeping a record of the consumables used regularly and maintain adequate supplies of them (including chemicals).
Acquiring relevant catalogs and price lists.
Ordering equipment and chemicals in consultation with the manager.
Assisting with labeling, storage, stock-taking and ordering of equipment and chemicals.
Servicing and clean simple laboratory apparatus/equipment.
Developing maintenance procedures for laboratory equipment and organize maintenance where required.
Reporting damages to equipment and arrange repairs.
Conducting safety audits for the laboratories.
Evaluating and selecting equipment, and make recommendations for purchase to Science Coordinator.
About You
Skills and Qualifications required:
Diploma or certificate in Science Laboratory Technology in Physics, Chemistry and Biology from a recognized institution.
You possess 1-3 years of working experience in a recognized secondary school or equivalent institution.
You are able to prepare students' practical work up to 8-4-4 level with minimum supervision.
You are flexible and open to change – you handle uncertainty, complexity and ambiguity well.You are a problem solver – you are proactive in identifying issues and address these thoroughly by making effort to find appropriate solutions.
You are excited about our organizational culture—and in particular, you are fired up to challenge yourself by embracing mutual vulnerability and a firehose of feedback.
How to Apply:
Head on to Nova Pioneer website for application process.
Check out similar jobs below