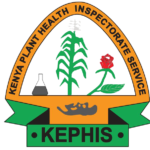 Website Kenya Plant Health Inspectorate Service (KEPHIS)
Kenya Plant Health Inspectorate Service (KEPHIS) is the government parastatal whose responsibility is to assure the quality of agricultural inputs and produce to prevent adverse impact on the economy, the environment and human health. Vision: Healthy plants, safe trade and sustainable agro-environment for a prosperous Kenya.
Job

Type: Full Time

Qualification: BSc/HND, MBA/MSc/MA

Experience:

8 years

Location:

Nairobi

Job Field:

Agriculture / Agro-Allied , Data Science / Research
Duties and Responsibilities:
Conduct chemical and biological testing on agricultural produce and agro- inputs for compliance to market requirements and standards for realization of the institutional mandate;
Review and validate processed test results for accuracy and integrity before approval for dispatch to clients;
Conduct technical laboratory assessments, system audits, review audit findings, develop and implement corrective/improvement action plans in the section;
Conduct national surveillance sampling programs for monitoring of pesticide residues, microbiological, mycotoxins, agro-inputs quality and heavy metal contaminants in agricultural produce for compliance to food safety and market requirements;
Undertake accurate detection and identification of regulated and non-regulated quarantine pests;
Undertake Tissue culture cleanup and micro-propagation of plants and germplasm maintenance;
Undertake Genetically Modified Organisms testing for detection, identification and quantification of events in support of the Biosafety act of 2009 and its regulations;
Participate in developing of new pest diagnosis protocols;
Participate in identification of risks related to laboratory activities to minimize, leverage and identify potential challenges before they occur;
Participate in developing client reports for purposes of decision making;
Support Pest Risk Analysis activities to advice on pest status and update pest listing the country;
Support laboratory research activities towards strengthening Phytosanitary and seed regulation;
Supervise implementation of ISO/IEC 17025 standard guidelines;
Generate technical specifications for equipment, apparatus and other implements and perform technical evaluation for media, reagents, chemicals and equipment that ensure acceptable levels of analytical performance;
Review workflow in the section/unit to ensure compliance with set performance timelines;
Review test requests submitted by clients for decision making on laboratory capability to test the submitted samples;
Audit food systems of export food business operators for compliance;
Supervise tests on proficiency testing, inter-laboratory and intra-laboratory samples comparisons organized in the section/units as a quality assurance and control measure to ensure validity of results;
Compile data on the performance of the laboratory through weekly monthly, quarterly and annual reports to monitor compliance to Customer service charter;
Prepare, reviews and implements laboratory protocols and Standard Operating Procedures for suitability and relevance in line with international standard requirements;
Prepare and submit performance reports outlining the extent of adherence to set targets and plans;
Participation in the Service project activities and awareness creation and training stakeholders;
Represent the Service in relevant stakeholder forums;
Induct new staff in all areas of laboratory analysis;
Offer agronomic and new technological advice on soil, water, plant health matters as well as providing crop specific advice based on analytical data in relation to crop nutritional needs; and Support research and development programs of the Service.
Person Specification
For appointment to this grade a candidate must have:
Bachelor of Science Degree in any of the following; Agriculture, Analytical Chemistry, Horticulture, seed technology, botany, microbiology, molecular biology Chemistry, Biochemistry, applied microbiology, applied Biology, Applied Biological Science, Applied Biological Technology and plant nutritionist from a university recognized in Kenya;
Masters in any of the following; seed technology, Plant Nutrition, Soil science, Horticulture, Plant Pathology, Crop protection, Agronomy, botany, microbiology, molecular biology, Analytical Chemistry, Biochemistry, Environmental Chemistry, Applied Biological Science, Applied Biological Technology and Food Safety or its equivalent from a University recognized in Kenya;
Served for at least eight (8) years related work experience three (3) of which must be in a supervisory position; and
Meets the provisions of the Chapter Six (6) of the Constitution of Kenya
Skills
Computer applications proficiency.
Statistical packages will be an added advantage;
Excellent problem solving skills;
Communication skills,
Data analysis skills,
Report writing and presentation skills.
Competencies
Ability to work independently and in a team;
Ability to make decisions independently;
Work well under pressure and prioritize work;
Knowledge in international standard on good laboratory practice; and
Experience with a Laboratory Quality Management System.
Method of Application
Applications are invited from suitably qualified candidates to fill the following positions in the Corporation. Eligible applicants are requested to submit their application letter together with detailed curriculum vitae, certified copies of academic and professional certificates plus transcripts, relevant testimonials and National Identity card in a sealed envelope and addressed to:
The Managing Director
Kenya Plant Health Inspectorate Service
Oloolua Ridge
P.O. BOX 49592 -00100
NAIROBI.
OR
Hand delivered to the Office of the Managing Director by 12 June, 2023.
Further, a summary of your biodata in the following format (Excel only) should be submitted to applications@kephis.org by 12 June, 2023