Top 10 Best Medical Laboratories in Kenya
Medical laboratories play an integral role in the healthcare system. The main function of laboratories is aiding screening, diagnosis and monitoring of diseases. By offering a wide array of laboratory tests, patient care becomes individualized, fast and better outcomes.
Which is the best medical laboratory in Kenya? There really isn't one answer to this question, so lets try to come up with a list of the 10 best known laboratories in Kenya. These are known for high quality tests, extensive test menu, encompassing routine and specialized tests.
In this article, we focus on the overall best medical laboratory tests in Kenya. In making this list, we looked at the quality of laboratory results, the status of the lab, how wide their test menu as well as cost of the laboratory tests
Overall top 10 laboratories in Kenya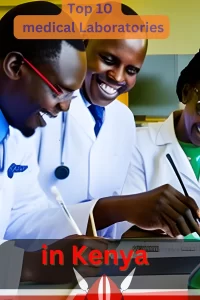 1. Cerba Lancet Africa Laboratories:
Cerba Lancet Africa is a Pan-African network of laboratories operating in 14 countries in Africa. Previously known as Pathologist Lancet Africa, its a leading laboratory service provider in Kenya. With a wide network of locations, You can find a Cerba Lancet laboratory in almost all counties and major cities and towns in Kenya.
What is notable about Cerba Lancet:
Most of their laboratories are ISO-certified, so the quality of their results is assured. In practice, this means their results will be acceptable to most hospitals and doctors in Kenya and beyond.
Website: https://www.cerbalancetafrica.com/locate-a-lab
2.Metropolis Laboratories Africa
Metropolis is a network of laboratories headquartered in India. With operations in 5 countries in Africa, Metropolis is rapidly expanding. In Kenya, they have more than 10 well-equipped laboratories carrying out a wide variety of tests
What is notable about Metropolis Africa Laboratories
Their laboratories are NABQL certified, so the quality of their results is above reproach. Due to their connection to India, they also offer tests that are not offered in Kenya seamlessly and with a reasonable turn-around time. Metropolis also offers support to researchers undertaking academic research.
Website: https://www.metropolisafrica.com/
3.Pathcare Laboratories
Pathcare Laboratories is another heavyweight in the medical laboratory sector in Kenya. A home-grown business, they started with on location in the Parklands area of Nairobi. With more than 30 locations across Kenya, you are assured to find a Pathcare laboratory in your locality
What is notable about Pathcare Laboratories
Most of their locations are KENAS accredited, and this gives re-assurance as to the quality of tests. Pathcare also conducts regular CPD-accredited webinars for laboratory medicine professionals.
Website: Pathcare Laboratories
4. Kenyatta National Hospital
It's the leading public referral hospital in Kenya and E. Africa region. With more than 10 specialized laboratories, KNH offers laboratory tests ranging from basic to the esoteric.
What is notable about KNH laboratories
Being the apex referral and teaching hospital, a referral is required for the laboratory services i.e No walk-ins. The breadth of their test menu is extremely wide, from the leading transplantation laboratory in the region to HIV reference laboratories.
Website: KNH Diagnostic Services
5.Agakhan University Hospital
The Aga khan University Hospital (AKUH) is a leading teaching hospital in E. Africa. With the only CAP-accredited laboratory in the region, AKUH places the highest priority on the quality of results.
What is notable about AKUH Laboratories Services
Aside from the highest quality of their results, AKUH Anatomic pathology department is one of the most advanced in the region. Offering studies not available in the country, be sure to check them out if you need specialized tests
Website: AKUH Pathology and Laboratory Medicine
6.The Nairobi Hospital
The Nairobi Hospital is arguably the premier private hospital in the region. As expected, their laboratory services are top-notch. All types of laboratory tests are covered, and the turnaround time is excellent.
What is notable about TNH Laboratory services?
Being a premier private hospital, the whole experience of having your laboratory tests is top-notch. From the time you step into the laboratory reception, specimen removal to communication of results, you can expect a personalised, world-class experience.
Website: The Nairobi Hospital -Laboratory Services
7. Mater Misericordiae Hospital
Established in the 1920s, the Mater Hospital is a leading mission hospital located at the South B suburb of Nairobi. With that long history comes a tradition of quality that permeates throughout their service areas. With a comprehensive list menu across their main laboratory and satellite centres, you can rest assured of their quality, timely turnaround time and support from their professionals.
What is notable about Mater Hospital Laboratory?
As a mission hospital, its services are rooted in compassionate care. So all your testing in any of their laboratories should be a pleasant experience. The cost as we mentioned before is more affordable as they are not profit-oriented.
Website: Mater Hospital – Laboratory Services
8. Mombasa Hospital
Our first hospital laboratory is based outside of the capital. A well-established fixture of the healthcare establishment in the coastal town of Mombasa, you can expect a wide array of tests, great quality and reasonable costs
Website: Mombasa Hospital Laboratory Services
9. UoN Medical School
University of Nairobi's Medical School is the most prestigious in the region. Based at Kenyatta National Hospital, the medical school runs its own laboratories under the Micropath brand and is accessible to the public.
What is notable about Micropath laboratory
Being a research institution, you can expect cutting-edge tests with quality second to none
Website: UON Micropath Laboratory
10. Gertrude's Children Hospital
Last but not last in out top 10 list of best medical laboratories in Kenya, Gertrude Children's Hospital is the leading paediatric hospital in the region. As such, you can expect super-specialised tests tailored for kids. This includes a wide range of laboratory tests for common childhood diseases as well as cancers.
What is notable about Gertrude's Children Hospital Laboratory
With a focus on pediatric patients, Gertrude's offers many tests tailored for paediatric patients. They also have cutting-edge study programs for childhood tumours. Children enrolled in the studies may have the cost of tests may be waivered, so be sure to contact them if you have a child who may benefit.
Website: Gertrude Children Hospital Laboratory Services
That's a wrap. Be sure to bookmark and come back later as we go deeper into each of these facilities and add more from every county.
Related Posts