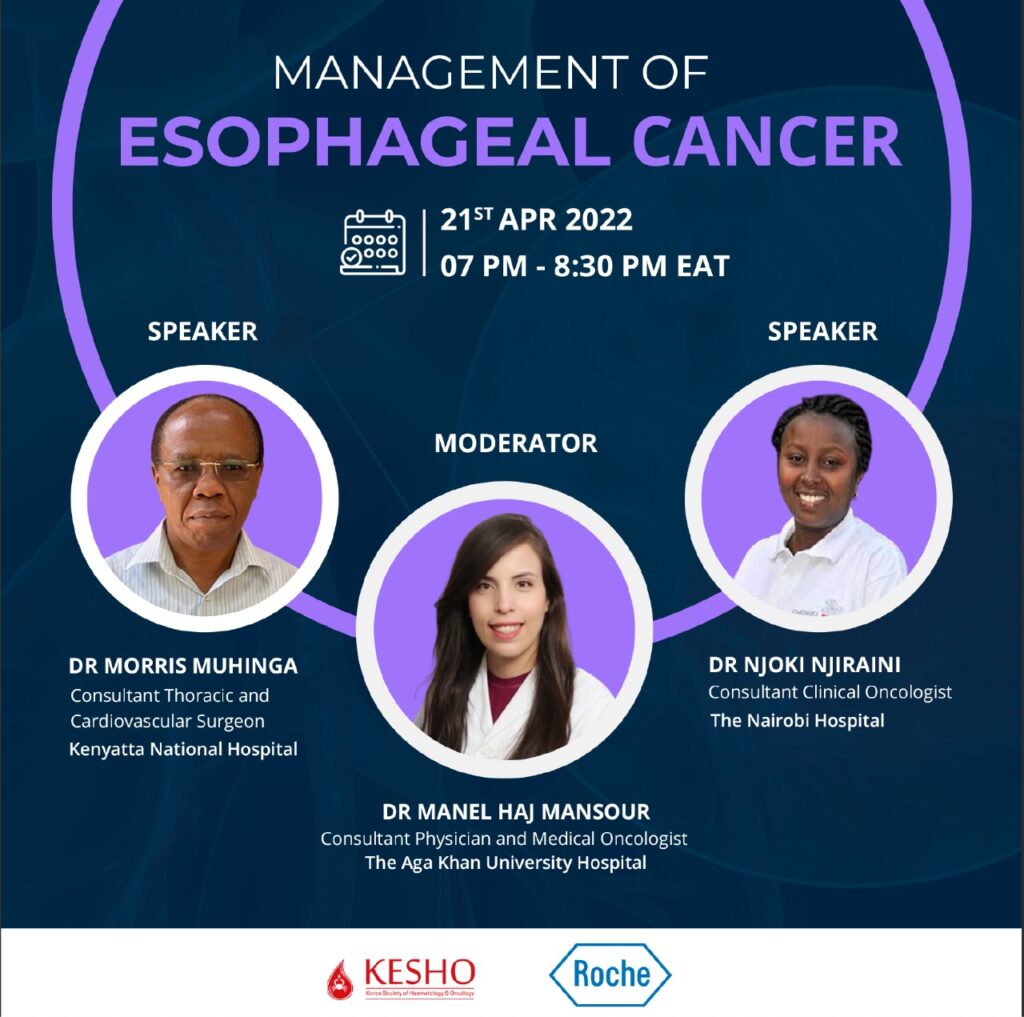 Hosted by KENYA SOCIETY OF HAEMATOLOGY AND ONCOLOGY

SPEAKER PROFILE:

Dr Njoki Njiraini
Njoki Njiraini is a Consultant Clinical Oncologist based at the Cancer Treatment Centre in The Nairobi Hospital.
She has been key in instituting multidisciplinary meetings, problem oriented research in the department, and streamlining patient care within the oncology clinics in the public and private sector.
Dr Njiraini holds a bachelors degree in Medicine and Surgery from the University of Nairobi, a Masters Degree in Radiation Oncology from the University of Cape Town, is a Fellow of the College of Radiation Oncology (FCRO) South Africa and a graduate of the Harvard POETIC Fellowship programme.

Dr Morris Muhinga
Morris Muhinga is a Consultant Thoracic and Cardiovascular Surgeon at Kenyatta National Hospital.
He has special interest and passion in thoracic oncology. He is currently engaged in a prospective multinational study on the morbidity and mortality of oncological esophagectomy (OUTLIVE study)
Dr Muhinga is a committee member of International Society for the Diseases of the Esophagus (ISDE)
He is a member of;
The Society of Thoracic Surgeons (STS)
The Society for Surgery of the Alimentary Tract (SSAT)
The Society of Surgical Oncology (SSO)
The International Gastric Cancer Association (IGCA)

Dr Manel Haj Mansour (Moderator)
Manel Mansour is a consultant physician and board certified medical oncologist currently working at the Aga Khan University Hospital. She was formerly a consultant medical oncologist at Texas Cancer Centre, Nairobi and also worked as a consultant medical oncologist and a lecturer at Abderrahmen University Hospital, Tunisia.
Dr Mansour graduated from the Faculty of Medicine of Tunis in 2012 and completed medical oncology residency in 2017.
She holds:
A certificate of completion of Oncologic Science Course on line in Breast Cancer
treatments from The Africa Breast University.
A certificate of medical oncology training on XXXIIth course antitumor
chemotherapy and cancer medical treatment at Gustave Roussy Institute Paris, France.
A post graduate certificate in Prevention and Palliative Care in Oncology, Faculty of Medicine of Sousse.
A post graduate certificate in Thoracic Oncology, Faculty of Medicine of Tunis.
A post graduate certificate in Breast Disease, Faculty of Medicine of Tunis.
She is a member of ESMO, ASCO, STOM (Tunisian Society of Medical Oncology) and KESHO. Her areas of interest include breast cancer, lung cancer, gastrointestinal cancers, gynecological and genitourinary cancers.